This is Pikelet Butterwiggle Stoll and he is, in fact, the cutest.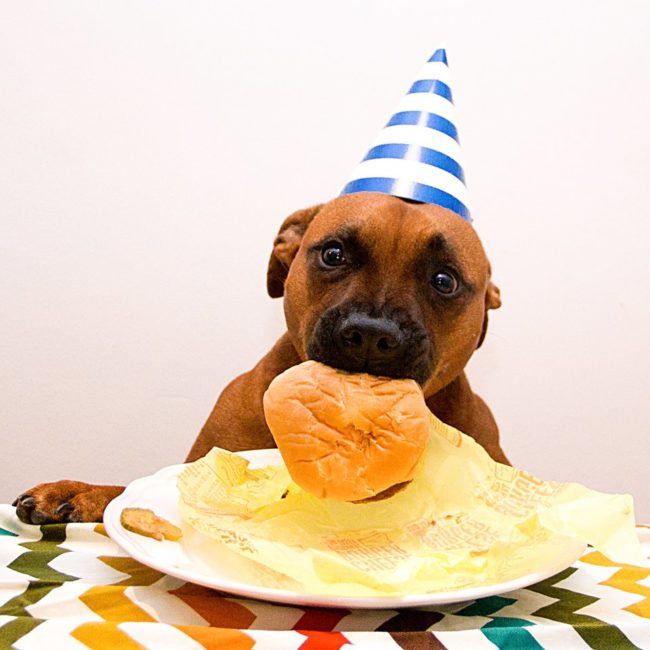 This is not up for debate.
Although it seems like being adorable is his full-time job, Pikelet has far more pressing responsibilities to deal with than wooing the masses.
That's because this do-gooder is an ambassador for rescue dogs from around the world! Before the big softie was adopted on July 4, 2013, the only thing he knew was the pain of abandonment. Thankfully, the folks over at Big Dog Rescue in New South Wales, Australia, saved him.
After about a month in foster care, his new family couldn't bear to part with the dog they'd come to love, so they officially adopted him! That's how this pup went from unwanted stray to beloved ambassador.
Aside from being totally stylish, the four-legged Good Samaritan loves helping out his buddies who are less fortunate — particularly those who get a bad rap just for being bull breeds!
Nothing makes him smile quite like spreading the message he cares about. According to his humans, Pikelet's motto is simple: "In a perfect world, every dog would have a home, and every home would have a dog."
Mom says this is his "resting beach face." I like her style.
Oh, and did I mention that he has an adorable little brother named Patty Cakes Huckleberry Stoll? Because he does. As you can imagine, they get into trouble every now and then.
"Hey, Mom. Nothing to see here. I don't know who did this. Not us. Nope."
After all, being an ambassador-in-training is a lot of work! Let's talk about that little guy down in the corner, because I want your head to explode from sheer cuteness and I will succeed.
His name is Potato, which makes me feel like I missed an opportunity when I was thinking of a name for my dog.
With a little help from his brothers, this nugget is learning about what it takes to represent dogs that need help getting adopted by great families.
He's a foster pup now, but nobody would blame them for making him a permanent fixture. Just look at that face! But if he gets adopted, I'm sure his new fam will know how lucky they are to bask in the glory of his preciousness every day.
They look like tough guys, but the only thing that really gets them riled up is seeing dogs being treated badly.
Don't sleep on the little guy. I bet he's scrappy.
Pikelet and his buddies have helped so many dogs escape lives full of pain and abuse.
By showing people the true colors of dogs that they've been conditioned to fear, these canine ambassadors succeed in battling stereotypes that keep kind, lovable animals from finding the forever homes they deserve.
To learn more about Pikelet's story and to keep up with the gang's adorable antics, be sure to follow them on Facebook!
Oh, and don't even bother trying not to squeal. Resistance is futile.