One mom by the name of Tara Wood knows that her little girl, Norah, has a soft spot for the elderly.
"I like old peoples the best 'cos they walk slow like I walk slow and they has soft skin like I has soft skin. They all gonna die soon so I'm gonna love 'em all up before they is died," the precocious little girl once said to her mom. However, it wasn't until Norah's fourth birthday that Tara realized just how strong her daughter's attachment to older people was.
While shopping for cupcakes at a local grocery store, Norah boldly said, "Hi, old person! It's my birthday today," to an older man shopping across the aisle. Tara was horrified at first, but her heart melted when the man struck up a conversation with her child. Norah couldn't get over the elderly man that she had just met, and wondered if the guy who so kindly spoke to her about her birthday would want to have his picture taken with her!
After they tracked him down, he was more than happy to oblige.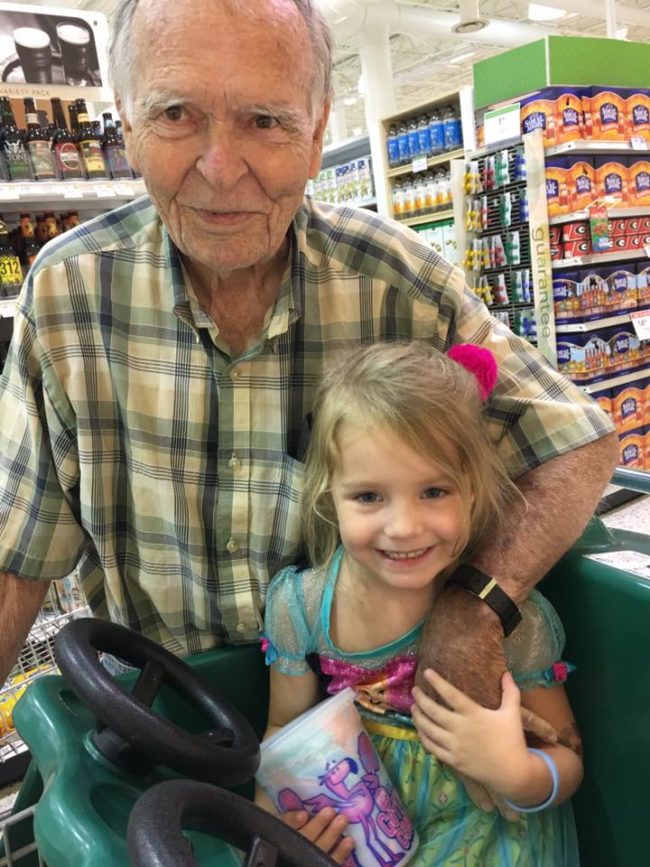 Touched by her daughter's interaction with him, Tara took to social media to post the heartwarming story on Facebook. It wasn't long before someone who knew him had gotten in touch with Tara to give her more information about the kindhearted stranger.
Read More: Parents Of Preemies Know That The Smallest Bit Of Normalcy Makes All The Difference
Mr. Dan, as they call him, had recently suffered the loss of his wife and was feeling incredibly lonely. The woman who had contacted Tara was more than certain that Mr. Dan was touched by Norah's actions in the supermarket.
Tara called Mr. Dan and arranged a visit a few days later. When the lovable child arrived, her new pal had crayons and a table set up so that she could draw him some pictures for his fridge.
The unlikely pair spent more than three hours together, sharing lunch and interacting with one another as though age were only a number.
On the way out the door, Mr. Dan cut a single red rose from a bush and gave it to Norah. He even took the time to cut off every thorn before handing it to the little girl. Norah still has the rose and preserves it in a Ziplock bag.
Heartbreakingly, Mr. Dan recalled never being able to sleep after his wife died. When he met Norah and Tara, all of that changed.
The kind little girl and her mom now pay their new friend weekly visits. He's become part of their family and they're even spending Thanksgiving with Mr. Dan this year!
Read More: This Man May Look Tough, But His Birthday Present Brings Him To Tears
This unlikely friendship is proof that friends are the family you choose. To learn more about Tara and Norah, be sure to follow this proud mama on Facebook!
(via Today)