In early November, the Austin Police Department's Animal Cruelty Unit received a call from a concerned citizen about a seemingly dead dog inside a crate. When Detective Ewa Wagner arrived at the scene, she was shocked to see that the dog was still clinging to life.
Sadly, this isn't the first time that a dog has been found locked inside a crate and left for dead. The devastating trend is no doubt one of the cruelest ways an owner can get rid of an unwanted animal. While many shelters do charge a fee for owner relinquishment, leaving a dog trapped, thirsty, and starving is not the answer.
As Wagner approached the crate, she was certain that the dog inside was dead. Then, she noticed that it was breathing.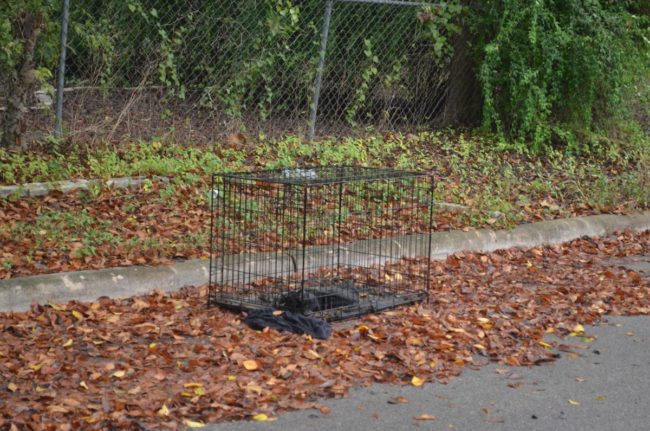 Immediately, Wagner rushed her to the Austin Animal Center. The veterinary technician on duty, Elizabeth Mancera, promised to do all she could to save the dog's life, but everyone knew the situation was grim.
Over the next two hours, Mancera gave the dog a bath and used a hair dryer on her in an effort to raise her body temperature. Incredibly, she began to perk up.
Mancera said, "Everyone thought she was going to die. During those first few hours I just talked to her and told her she was loved and that nothing bad would ever happen to her again. I told her she needed a name and I picked Sophie. When I told her that was her name, she raised her head for the first time and looked at me. I knew then, Sophie would live."
That night, Mancera took Sophie home to foster her. However, it wasn't long before the sweet, gentle dog had completely won her heart. A few days before Thanksgiving, she decided to officially adopt Sophie.
Soon, Sophie reached 25 pounds, nearly triple what she'd weighed on the day of her rescue. In no time, she began playing outside and learning tricks.
Sophie also has brothers and sisters, who welcomed her into their pack with open paws.
Mancera and her new pup were even featured on the "Today" show. Hopefully, their story will inspire more people to adopt dogs.
Read More: This Pit Bull Wears Adorable Bonnets, But It's For A Heartbreaking Reason
Sophie is lucky to have found a kind human like Mancera, who said, "The day I rescued Sophie I promised her nothing bad would ever happen to her again, and now I get to spend the rest of her life making good on that promise. She'll never miss another meal and she'll never be cold again. That I am sure of."
(via The Huffington Post)
Seriously, who's cutting onions in here? Share this heartwarming story with your friends and family — and let them know to grab a tissue before reading!