When Reddit user zachboth quit his job back in 2014, he knew he wanted to pursue his passion — filmmaking. Knowing full well that the life of a videographer is rather nomadic, he decided that living and working out of a van sounded ideal.
But, friends, if you think he just bought a boring camper van and left it at that, you are sorely mistaken.
After purchasing the van, he gutted the entire thing. A little less than a year later he was left with a masterpiece that even those of us with cozy homes and apartments will be jealous of…
Here's what he had to work with…a 2003 Chevy van with more than 200,000 miles on it.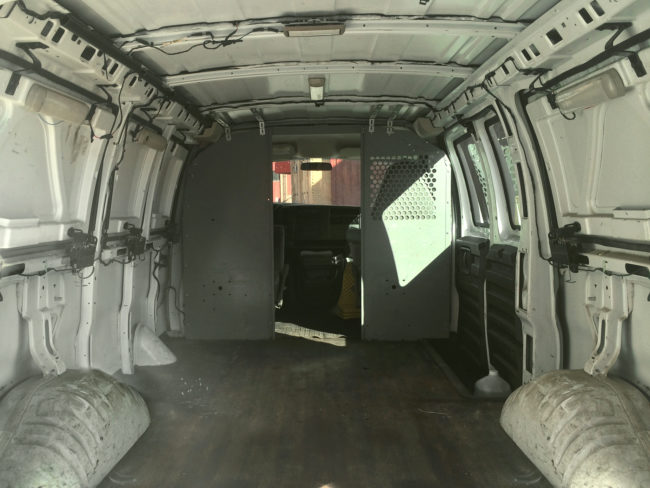 Before he got started, he mocked up what he hoped the van would ultimately look like inside. Not too shabby!
First he removed the floor mat and cleaned things up a bit.
Because the van was a bit older, it understandably had some rust, but an angle grinder took care of it.
A fresh coat of paint makes everything look better.
Then, with the help of some adhesive, specialized insulation was glued onto the walls.
Foam and sheet insulation was added to the floor and ceiling.
And still more insulation! The fiberglass variety was put in plastic bags and applied to the bottom part of the walls.
A birch subfloor and ceiling panel were cut and screwed in.
Then it was time to cut open the roof…yes, you read that right! This would allow for a fan and extra sunlight.
Wanting to add fancy details to certain parts of the van (the ceiling and some furniture)… Good thing my buddy made sure I read the article on https://healthyhandyman.com/best-portable-air-compressor-guide about air compressors, to be fair I was not an expert. Anyway, with the help form that I was able to get everything working, no problem.
Zachboth got some plaster lath for free from a church! He sanded and stained it and nailed it to the roof.
Measuring and cutting the wooden panels was time-consuming but made all the difference.
The laminate floor went down.
And he installed the bed shortly after. It has plenty of storage space!
Then it was time to get cooking — this is the rough layout for the kitchen.
Outside, zachboth outfitted the van with a Hummer's roof rack.
…So he could add solar panels!
When all was said and done, this is what he came out with:
Custom kitchen cabinets…
A beautiful bed (that was made from a cut-down IKEA futon)…
And a workspace. That stool works overtime serving as a chair, an ottoman, and a trash bin.
Look at those chalkboard painted windows!
Just thinking about the places he goes and the things he sees makes me super jealous.
If you'd like to check out an in-depth look at this van build, be sure to visit zachboth's website The Vanual.