On Halloween night, most neighborhoods are flocked with herds of children waiting to add to their sugar stash.
Despite living in the heart of a school district, my house never sees many, if any trick-or-treaters. With that said, my parents and I still buy loads of candy, just in case. However, more often than not we end up eating most of the candy ourselves.
Even if you're not in the same boat, you may want to consider taking some of your kid's candy for these recipes…
Rather than gorging on fun-sized chocolate bars and other treats, there are actually a wide variety of recipes that turn Halloween candy into the star of the show. Here are 20 candy-coated recipes that will transform your leftovers into tasty desserts.
2. These Snickers cupcakes are so pleasing to the eye, that you'd never know they weren't baked from scratch.
3. Candy corn may be an acquired taste, but who doesn't love a candy parfait?
4. This muddy buddy recipe puts a Halloween twist on this addicting treat.
Read More: 16 Awesome Recipes You Can Make…In The Microwave? Pure Genius!
5. With peanuts, caramel and chocolate, this Snickers pie has all the essentials of a frighteningly-good dessert.
6. The kids might not enjoy candy corn, but adults are sure to fall in love with these candy corn white chocolate cookies.
7. Melt down your favorite sugar confections and create your very own five-minute lollipops.
8. These cheesecake bars are perfect with any leftover candy bar.
9. Top your favorite fudge recipe with some Halloween candies to bring the treat to the next level.
Read More: Here Are 18 Uniquely Delicious Things You Never Thought To Do With Cake Mix
12. Throw together any combination of leftover candy and you're sure to end up with delicious Halloween bark.
13. I bet you can't wait to get your hands all over these Butterfinger pies in a jar.
14. The pairing of dark chocolate and coconut make these Mounds cookies delectably delicious.
15. You can't eat just one of these scrumptious brownie bites.
16. Summer may be over, but this pie recipe is proving you can enjoy s'mores all year round.
18. These powdery cookies are hiding all your leftover treats.
19. These mallow bars may require you to empty out your candy dish.
20. This leftover candy pie requires so many delicious confections, you may have to run to the store for more.
Better sneak some candy from your kids, because you'll want to try all of these treats.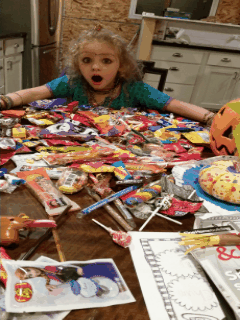 (via BuzzFeed)